A vital aspect of a successful business is productivity. Hence, the entire team of agents need to work together to become a properly-working unit. Moreover, the employers need to make sure that their employees have the resources to fully thrive. If those resources include proper training, advanced technology, or positive feedback, employees count on their bosses for the right guidance.
Indeed, there are three main things that a call center can do to boost their productivity: increase agent engagement, organization, and constantly make improvements.
Increase Agent Engagement
How can you get your agents more engaged in their work? Indeed, one of the best ways to get employees to feel more passionate about their work is listening to their feedback and implementing their ideas. There are many ways to allow agents a chance to voice their ideas: get their opinion on training topics, ask if there are things that could be improved, see if they enjoy their technology. Certainly, the possibilities are endless!
Secondly, you can make an agent feel like a valued member of the team (and therefore, increase their engagement) by offering flexible hours. Allowing people to choose when they get to work is a big deal for employees. If they are forced into a shift that they are unhappy with, or doesn't work with other commitments, the employee won't fully focus on the work in front of them.
Lastly, make work fun! Find a way to incorporate games or small awards to get employees excited about working. Creating these tasks can boost productivity and camaraderie in the workplace. People who enjoy their jobs are more likely to work harder. Therefore, having a work environment that agents are looking forward to will boost productivity.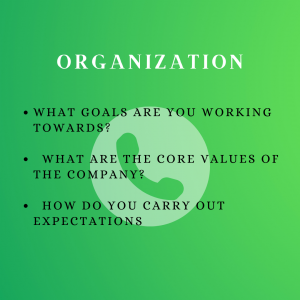 Organization for Productivity
Imagine walking into your workplace and no materials are organized. Papers are scattered, chords are tangled, and you have no idea where your list of tasks went. Where do you start? Working in an unorganized environment can make people feel not only overwhelmed, but also unsure of direction and unmotivated.
Productivity is hard to achieve when employees or a company do not know their purpose. What goals are you working towards, what are the core values of the company, how do you carry out expectations? Knowing answers to these types of questions can help organize a company and its employees.
Furthermore, when a company is unorganized, the clients are affected as well. Nobody wants to call a company and get put on hold for 20 minutes, or get passed around to six different employees. You want to reduce your handling time with customer service. Your reputation and business can go downhill quickly, thanks to poor reviews on sites like Google.
As an employer, you can help this by having meetings to realign focus. You can hand out weekly goals, keep track of important statistics (for example, hold times), and check-in with your employees to see if they have any concerns.
Make Necessary Improvements
Even if your business is doing well, you can always seek out ways to improve. There are many ways that you can incite a positive change in your business:
Budget for better technology if yours is outdated or install newer softwares
Offer consistent training and refresher meetings
Communicate with your team
Set goals and voice clear objectives
Motivate your employees in slower seasons
Truly, there are numerous ways that you can improve your business. In turn, your productivity gets boosted and your employees are happier at work. If you ever run out of ideas for improvements, turn to your team and encourage brainstorming. A communicating unit is a cohesive one!
Summary
You have the tools for success and an efficient call center! In summary, the three main keys for productivity (engagement, organization, and improvements) are within your reach and attainable. There are many ways for you to implement these strategies, but remember to take your goals one step at a time. Taking on too many tasks at once is not great for productivity!
KPI Connect knows all about the work that has to go into creating a productive team. Our talented call agent team works hard to achieve the reputation that we have today!
KPI Connect
With over 12 awards under our belt, we at KPI Connect take pride in our business and our agents. Certainly, we train our agents to be ready for any problems and help them by offering updated software, technology, and coaching.
If you need help improving your business, we can do it. The KPI philosophy is three words: collaborate, communicate and connect. Along with understanding your business, we want to become an extension of the company so we can help customers quickly. We can help you reach goals if your company needs improvement on customer service, profit, or productivity.
Contact us if you require assistance. We always look forward to working with new clients and helping solve company issues!